Would you like to start your own business and put sustainability and environmental protection in the foreground?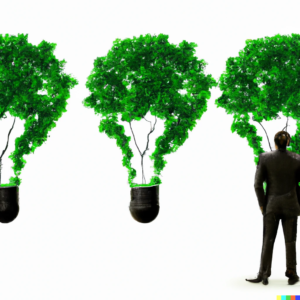 … then why not decide to set up a green company?
The Go4DiGREEN online training helps you to do this!
Starting a green business is a big decision. Many things need to be considered and taken into account here. Thea expertise taught here will help you avoid mistakes, start successfully and have long-term success.
Complete the 15 training modules and become an ECQA certified European Green Entrepreneur.
Get started today!
There are many reasons to start a sustainable business:
Environmental awareness: As a green entrepreneur, you can actively contribute to the protection of the environment and take responsibility.

Future prospects: The demand for environmentally friendly products and services is steadily increasing. As a green entrepreneur, you can benefit from this trend.

Innovation: Green companies often develop new technologies and business models to solve environmental problems.

Competitive Advantage: By focusing on sustainability, you can differentiate yourself from other businesses and gain a competitive advantage.

Customer loyalty: More and more people are paying attention to sustainable products. As a green business owner, you can appeal to these people and build long-term relationships.

Cost savings: Sustainable practices like energy efficiency help you cut costs and make your business more profitable.

Financial support: governments and organizations often offer financial support to green businesses to help them transition to sustainability.

Attractive workplace: as the owner of a green business, you can attract talented employees who share similar values as you.

Positive company culture: Sustainable companies often promote a positive and ethical company culture that increases employee engagement.

Image and reputation: Running a green business strengthens your positive image and reputation as a responsible and forward-thinking entrepreneur.

Networking opportunities: As a green entrepreneur, you can exchange ideas with other like-minded people and benefit from their experiences.

Environmental protection: As a green entrepreneur, you actively contribute to environmental protection and make your contribution to climate protection.

Compliance with the law: Environmental laws are becoming increasingly strict. As a green entrepreneur, you are well prepared and avoid legal problems.

Bring about change: Through your sustainable business, you can make an important contribution to change and transition to a sustainable economy.

Personal fulfillment: As a green entrepreneur, you can achieve personal fulfillment by doing something meaningful for the environment and society.
Go4DIGREEN is looking forward to you!